The PATH SmartLink
Welcome to the PATH SmartLink Card Web site! The PATH SmartLink Card is a durable, plastic card with an embedded computer chip that stores and tracks the number of your available prepaid PATH train trips and features the following benefits:
Savings - The best discount available per trip!
Convenience - Easy to use, easy to reload-just touch and go!
Security - Trip balances are protected against loss with registration.
Durability - Refillable plastic card is designed for long-term use.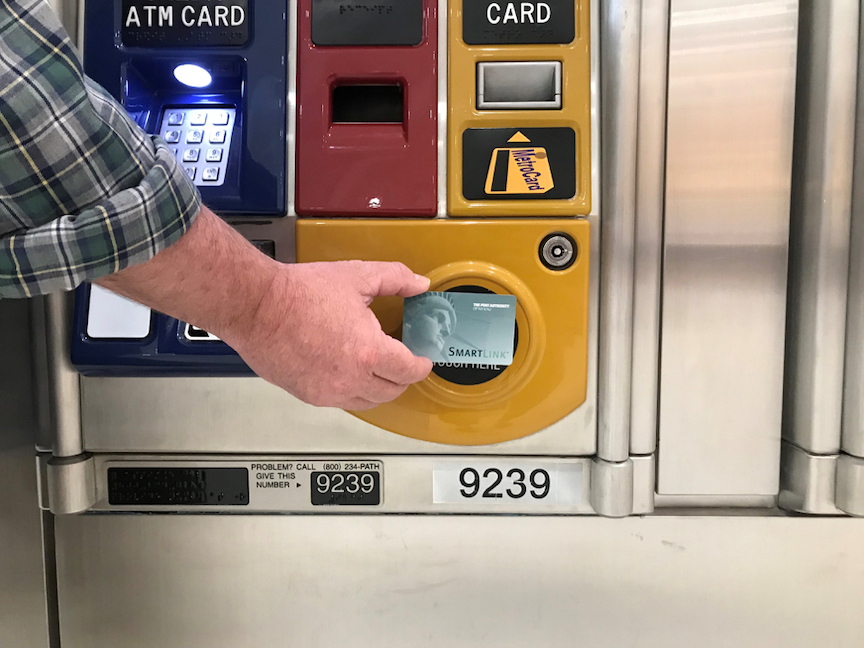 To purchase a PATH SmartLink Card, you may do one of the following:
Complete an online request form.
Print and complete the downloadable mail-in request form.
Visit the blue SmartLink Card Vending Machines at these PATH stations: Newark, World Trade Center, Journal Square, 33rd Street, Exchange Place, Pavonia/Newport.
By creating a Web account and linking it to your PATH SmartLink Card(s), you can also take advantage of these online services:
Automatic Replenishment - easily set up recurring, automatic trip replenishment so that you never have to wait on line at a PATH Vending Machine to add trips to your Card
One-Time Replenishment - load one-time trip package(s) onto your Card from the comfort of your home or workplace computer
Card Registration - register your Card and protect your trip balance once you report your Card lost or stolen
With an array of Card management features and convenient payment options, managing and adding trips to your Card(s) has never been easier, faster, or smarter!!