Purchase PATH SmartLink Card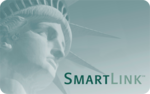 Simplify your PATH commute with the PATH SmartLink Card. Easy to use, easy to reload and designed for long-term user, this durable chip-embedded card comes pre-loaded with twenty (20) trips or blank so that you may add the trip product you prefer either online with a PATH SmartLink Web Account or at a PATH vending machine.
To order online, select from the trip products, as well as the quantity of Cards you would like, below. Once you receive your Card(s) in the mail, don't forget to consider creating a PATH SmartLink Card Web Account to take advantage of an array of online Card management features and tools. If you choose not to create a Web account, register your Card(s) if you would like to benefit from SmartLink's trip protection feature.